Become a Global Student Network Affiliate
Earn 7 1/2 % on every customer you refer!
Global Student Network is looking for customers, former customers, homeschool enthusiasts, bloggers, experts, evaluators, speakers and other influencers to partner with us.  Anyone who is connected to the homeschool or online learning community can become a GSN affiliate!
How It Works:
Register or Login by Clicking Here.
Get your Unique Affiliate Link from our Affiliate Area.
Potential Cutomers visit our site using your Unique Affiliate Link or enters your Referral Code when they are making a purchase.
You'll earn 7 1/2% Commission on every purchase that customer makes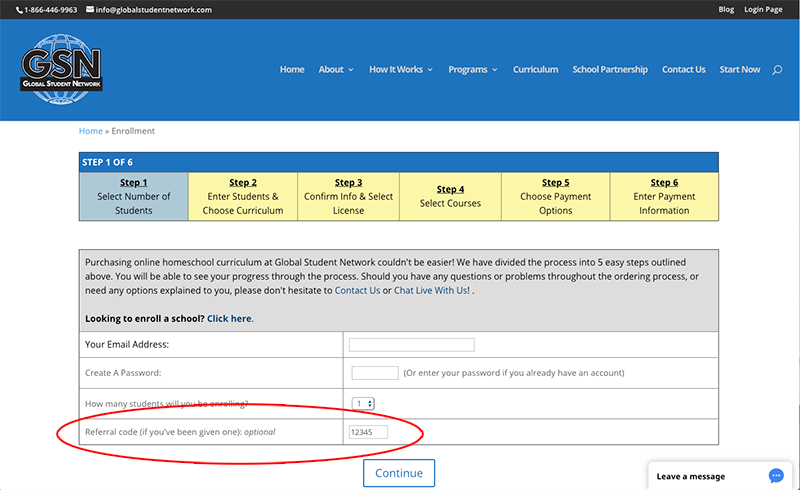 Who can participate?
Anyone can participate in Global Student Network's affiliate program.
How do I get paid?
We pay monthly, via PayPal.  Payments will be processed by the 10th of the month for sales the previous month.  Example, February commissions will be paid by March 10th.
Will I receive a 1099?
If you earn more than $600 in a year, we will need to collect a W9 form from you and issue you a 1099, either personally or to a business. 
What if a customer uses my link, but doesn't purchase right away?
When a customer visits our site via your affiliate link, we use a tracking cookie which will remain in the user's web browser for 30 days.  So if they purchase anytime within the 30 days, your affiliate code will be pre-populated to their enrollment. 
Will I earn on additional purchases?
Once you refer a customer to Global Student Network, you will earn 7 1/2% on all their purchases.   Once the user is in our system, they are permanently tagged as your affiliate.   So if they re-enroll or renew their services, you will continue to earn.  This is great incentive to encourage your friends and followers to utilize GSN for curriculum needs, as students will need curriculum throughout their entire schooling period.  
Do you have banners for my website?
Yes, not only can you use your affiliate link, but there is a variety of banners you can place on your blog or website.  Simply visit the affiliate area and copy and paste the code to your website.  
Can I view my sales activity?
Yes, simply visit the affiliate area and click on "View Sales" in the upper right corner of the page.  Then choose a date range to view sales activity.  
What if I still have questions?
Simply contact us.