As homeschoolers, we do a lot of living in our homes. Moms can't do everything so how can we teach our kids a few basic organizational skills? Here are a few quick ways to get your kids on the path to keeping better organized around the house.
Easy to Remember
If you want them to remember how to get their rooms organized then tell your kids the same steps every time. Make it easy to remember and use the same steps every time you send them to get an area cleaned up. I like to use the following steps for one of my kids who are particularly challenged with keeping organized.
Throw Away
My kids will never get rid of as much stuff as I will if I clean up their rooms. However, getting them trained to throw away junk is a step in the right direction.
Put Away
What needs to be put away? Can dirty clothes be tossed into the hamper? Toys are stored in the proper bin? Pencils, crayons, and papers are put back?
Tidy Up
The area doesn't have to be perfect but it can look tidy. Can books be stacked up, a bed made, items on a shelf or dresser straightened?
Be Consistent
It's tempting to clean up after my kids all the time because I can get it done fast. You might be surprised though if I tell my kids to clean up before screen time how quickly it gets done. The more consistent I am in my expectations of my kids, the more improvement I see. I keep the steps the same: throw away, put away, tidy up. I expect the same: my kids have to put away their own homeschool areas and keep their rooms clean. Yes, once in a while I go through and deep clean these areas myself but 80% of the time my kids do the work. Here's another list of tips for kids: https://www.goodhousekeeping.com/home/organizing/tips/g340/ogranizing-tips-for-kids/
Praise
Once my kids have done a good job, I praise them for pitching in. I want them to be encouraged to keep going. God knows I can use the help.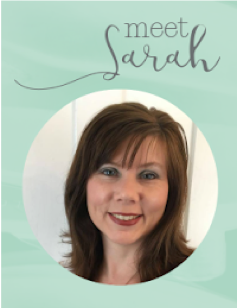 Sarah Brutovski is a homeschool mom of three children. She grew up just down the street from where she and her husband are raising their family now in rural Upstate New York. When she is not teaching her kids, grocery shopping, or drinking coffee you might find  her training for a half marathon, escaping for a morning at the beach, or chatting on the phone with one of her four siblings. Sarah loves writing on her blog sarahswritingcafe.blogspot.com and currently teaches creative writing at her kids' weekly co-op.